DOUBLE MOTOCROSS WEEKEND!!!

SATURDAY, MAY 25TH 2019
Round 4 Motocross Series
NCSC Joins WSP
Schedule D

Contingency from:



SUNDAY, MAY 26TH 2019
Round 5 Motocross Series
NCSC and NEMX Joins WSP
Schedule A

Contingency from:



Gates Open Friday 5pm-10pm, Saturday, 6am-10pm, Sunday, 6am
Gate Fee: Double Day $20 Adults/Racers, 6 and under free (non-racers)
Winchester Residents and Seniors 65+ $10
Gate Fee: Single Day starting at 3pm Saturday $10 Adult/Racers, 6 and under free (non-racers)
Winchester Residents and Seniors 65+ $5
If not staying for Sunday's race, you MUST get your wristband cutoff at the gate by 8PM Saturday for a $10 or $5 refund (NO Exceptions)

Sign Ups: Friday, 6pm-8pm, Saturday 7am-9am (for Saturday's Race)
and Saturday 1pm-5pm, Sunday 7am-9am (for Sunday's Race)
Race Fees: $35 first two $20 each additonal class
No One Day Fee All are Welcome
Transponder Rental: $10 per day with Credit Card or $200 cash as collatoral
$5 Mechanics Pass non-members (one per rider must be 18)
Practice Starts at 9am Saturday
50cc Non-Race Bike Class will run at every WSP event. Both Motocross and Supercross
$25 entry fee, non-championship points, modified track, 2 motos in the first half of the race day
Top 5 Awarded

Saturday Night May 25th
8pm Under the Pavillion
We Welcome Back
Ben Pratt
Comedy Illusionist
This Show is Family Friendly





MONDAY, MAY 27, 2019
AJ CATANZARO MOTO-X ACADEMY
*Transponders required. WSP will be renting transponders if you don't have one. Sign in Monday starting at 7am at the Motocross office to get your transponder and be entered into the system.
WWW.AJCATANZARO.COM TO SIGN UP
HOT LAP HERO SEE DETAILS BELOW



All attendees of AJ's Hot Lap Hero School are welcome overnight if racing the weekend. If you are not racing but attending AJ's School and wish to stay overnight. Please arrive after 7pm to avoid a gate fee. This will allow for the racers to leave and open up space in the pit area. Thank you

2019 RACE ORDERS
50cc Non-Race Bike Class will run 2 motos in the first half of each race day
(placement in race order will be determined on race day after sign ups)

SCHEDULE A


SCHEDULE B

SCHEDULE

C


SCHEDULE D

50 7-8
YOUTH A&B
65 10-11
85 12-15
50 4-6
YOUTH C
65 7-9
85 911
50+
65 OPEN
30A
50 7-8
WOMEN
OPEN A
30B
50 4-6
250A
OPEN B
30C
50+
250B
OPEN C
SUPERMINI
WOMEN
250C
85 12-15
50 OPEN
250A
65 10-11
85 9-11
450A
250B
65 7-9
50 78
450B
250C
30A
50 4-6
450C
65 10-11
30B
50+
40A
65 7-9
30C
WOMEN
40B
40A
SUPERMINI
250A
40C
40B
50 OPEN
250B
YOUTH A&B
40C
450A
250C
YOUTH C
SUPERMINI
450B
6510-11
65 OPEN
50 OPEN
450C
65 7-9
OPEN A
450A
40A
30A
OPEN B
450B
40B
30B
OPEN C
450 C
40C
30C
85 12-15
30A
YOUTH A&B
SUPERMINI
85 9-11
30B
YOUTH C
50 OPEN
50 7-8
30C
65 OPEN
450A
50 4-6
YOUTH A&B
OPEN A
450B
50+
YOUTH C
OPEN B
450 C
WOMEN
65 OPEN
OPEN C
40A
250A
OPEN A
85 12-15
40B
250B
OPEN B
85 9-11
40C
250C
OPEN C
Winchester Speedpark and New England Motocross Organizations Present:




Seven Mini Challenge Moto 1 Results

(click the link below)


50 4-6
50 7-8
65 7-9
65 10-11
85 9-11
85 12-15
2019 SEVEN MX MINI CHALLENGE
Requirements:
WSP AND/OR NEMX 2019 MEMBER
Must participate in all 3 events to be eligible for awards.
When signing up for the Mini Challenge you must choose 1 class only that you would like to participate in.
When signing up for membership please let us know by email what class you would like to participate in for the Seven MX Mini Chllenge and we will sign you up.
info@winchesterspeedpark.com or nemotocross@msn.com

Triple Crown Eligible Classes:
50 4-6
50 7-8
65 7-9
65 10-11
85 9-11
85 12-15

Point structure:
Olympic Style System – the least amount of points determines the winner for each class in the Mini Challenge. Points are equal to your overall finish order for that event. (1st=1, 2nd=2, 3rd=3, etc.). (Only Mini Challenge participants will be counted when determining your finish for each Mini Challenge event.) In the event of a tie, the winner will be determined with the best finish at the 3rd Triple Challenge Event.

If a rider wins all 3 events, they will be given 3 Seven gear sets of their choice.

Overall Winners (lowest point accumulated in each class):
1 Set of Annex Gear (jersey, pant, glove)
Seven MX Swag Bag
Seven MX Mini Challenge Plaque
1st-10th will receive a special event Seven MX Mini Challenge T-shirt

Round 1 May 11, 2019
Round 2 June 15, 2019
Round 3 August 31, 2019

******************************************************************************************************




AJ CATANZARO'S HOT LAPS INFORMATION
Time: 8:30am-5pm

*Transponders required. WSP will be renting transponders if you don't have one.
Payouts will be in cash at the end of the day.
Contact catanzaroracing@gmail.com with additional questions.
Hot Lap Hero
'The race where only one lap matters'
An Aj Catanzaro Moto-X Academy Promotion
Can you only do one or two fast laps before getting tired and dropping off pace in the moto? Ever wanted to be like the pros in timed qualifying, laying it all on the line to get pole position? This event is for you. Lay down your fastest one lap sprint time for bragging rights and overall awards/cash at the end of the day!
Go head to head against other riders in your category to see who has the fastest sprint time. Each class will be given 15 minute sessions, with the A class getting 20 minutes. Use that time however you please, just know that only 1 lap is what it takes to win!
Receive instruction throughout the day from Aj Catanzaro on how to improve your lap times and do it safely. Aj and his guest instructors will be out on the track alongside you to push you to a faster lap!
There will be a bounty on Aj Catanzaro's head, any rider that can beat his best lap time will walk away with some serious $$$
There will be a 20 rider cap on each respective class, to ensure that the track is not crowded and that each rider can receive individual attention from our trainers.
Only $125 for the day and get way more track time then a normal race.
"The beauty of this new event is that you can make it as competitive as you want to! You can go out and free ride, or you can throw down hot laps to see where you end up on the board and go for that prize money!" – Aj Catanzaro
Learning technique and applying it in a practice environment is one thing. The Hot Lap Hero event is a perfect opportunity to begin applying these techniques while riding with aggression & urgency.
Classes/Payout: (Total Payout $800)
50cc – 1st Place $40
2nd Place $20
3rd Place $15
65cc – 1st Place $40
2nd Place $20
3rd Place $15
85/Supermini – 1st Place $50
2nd Place $30
3rd Place $15
C – 1st Place $50
2nd Place $30
3rd Place $15
B – 1st Place $75
2nd Place $40
3rd Place $20
A – 1st Place $150
2nd Place $100
3rd Place $75
Aj Catanzaro Bounty: Beat Aj's fastest lap time of the day and win an additional $200! *If more than one rider beats Aj's time, the fastest rider will be awarded the cash.
*Class payouts are for overall times, not per moto.
Day schedule:
8:30am – Riders Meeting
9:00am – 85/Supermini
9:20am – 50 & 65cc
9:40am – C
10:00am – A & B
10:30am – 85/Supermini
10:50am – 50 & 65cc
11:10am – C
11:30am – A & B
Noon – Lunch/ Track Work
12:30pm – 85/Supermini
12:50pm – 50 & 65cc
1:10pm – C
1:30pm – A & B
2:00pm – 85/Supermini
2:20pm – 50 & 65cc
2:40pm – C
3:00pm – A & B
3:30pm – 85/Supermini
3:50pm – 50 & 65cc
4:10pm – C
4:30pm – A & B
5:00pm – Awards Ceremony
___________________________________________
Like us on Facebook!


Open for Service, Parts and Accessories!
Great Shop rate....only $60hr!!
email us at info@winchestermotorsports.com or call 603-392-0120

TRACK PHONE
603-392-0419
________________________
LIVE STREAMING
RESULTS ALL EVENTS!
Click on Race results link....Live Results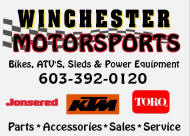 TRANSPONDERS
NEED TO RETURN
RENTED ONE?
Used at ALL Events:
Transponders
Rent for $10 Day
or
Purchase
TRANSPONDER
$103 and up
(subscription 1-5years)


Have a MyFlex
But need to renew
Subscription?
BUY HERE



#1 for Decades!
You must have Health
Insurance to race or
Practice at WSP
AMA Heath ins info
WSP Accepts
for your Convenience

Overnight camping is
allowed at track
Thursday evening is the best time to charge your
TRANSPONDER
Wake up Friday and it should be good to go for the whole weekend - takes around 16 hours
During the charge it will blink red.....when it turns green, it's done. unplug
It will blink green one time for each day of charge left
Blink
1 = 1 day
2 = 2 days
3 = 3 days
4 = 4 days
Red means less than 24 hours
So remember......
Wednesday night is Spaghetti night and.....
Thursday night is Transponder night! :)
So far you all have been
doing great!

OLD SCHOOL COMMERCIAL!!!
Under the Lights.wmv
S
E
E

Y
O
U

A
T

T
H
E

R
A
C
E
S

I
N

2
0
1
8