WELCOME

RACE RESULTS

2018 RULES

2019 SCHEDULE

NERC.ORG


RACE SCHOOL

POINTS

Transponder Page

MY LAPS

FORMS & Membership

STAFF

PHOTOS

CONTINGENCY

SPONSORS

CONTACT

Track Layouts

VENDOR INFO

Accomodations
MX SPORTS





2019 Bike Numbers Are Now First Come First Serve
To Sign up for your 2019 Online Membership Form
Click the link below
http://winchesterspeedpark.com/paypal-forms/entry_form.php

2019 Printable Membership Form Click Here

**************************************************************************************************************************************

OPEN PRACTICE MX
SATURDAY, MARCH 30, 2019
12PM-5PM

***********************************************************
Winchester Speedpark and New England Motocross Organizations

PRESENT

2019 SEVEN MX MINI CHALLENGE

WSP AND/OR NEMX 2019 MEMBER


Must participate in all 3 events to be eligible for awards.

When signing up for the Mini Challenge you must choose 1 class only that you would like to participate in.


When signing up for membership please let us know by email what class you would like to participate in for the Seven MX Mini Chllenge and we will sign you up.
info@winchesterspeedpark.com or nemotocross@msn.com

Triple Crown Eligible Classes:


50 4-6

50 7-8

65 7-9
65 10-11

85 9-11

85 12-15


Point structure:


Olympic Style System– the least amount of points determines the winner for each class in the Mini Challenge. Points are equal to your overall finish order for that event. (1st =1, 2nd=2, 3rd=3etc.). (Only Mini Challenge participants will be counted when determining your finish for each Mini Challenge event.) In the event of a tie, the winner will be determined with the best finish at the 3rd Triple Challenge Event.


If a rider wins all 3 events, they will be given 3 Seven gear sets of their choice.


Overall Winners (lowest point accumulated in each class):

1 Set of Annex Gear (jersey, pant, glove)

Seven MX Swag Bag

Seven MX Mini Challenge Plaque


1st-10th will receive a special event Seven MX Mini Challenge T-shirt

Winchester Speedpark will host all 3 rounds

Round 1
Saturday, May 11th MX

Round 2
Saturday, June 15th MX

Round 3
Saturday, August 31st MX
Awards Ceremony Under the Pavilion
details TBA

******************************************************************************************************

SEE EVERYONE IN 2019!!!!

**************************************************************************************************************
___________________________________________
Like us on Facebook!


Open for Service, Parts and Accessories!
Great Shop rate....only $60hr!!
email us at info@winchestermotorsports.com or call 603-392-0120

TRACK PHONE
603-392-0419
________________________
LIVE STREAMING
RESULTS ALL EVENTS!
Click on Race results link....Live Results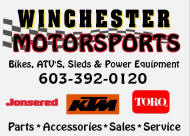 TRANSPONDERS
NEED TO RETURN
RENTED ONE?
Used at ALL Events:
Transponders
Rent for $10 Day
or
Purchase
TRANSPONDER
$103 and up
(subscription 1-5years)


Have a MyFlex
But need to renew
Subscription?
BUY HERE



#1 for Decades!
You must have Health
Insurance to race or
Practice at WSP
AMA Heath ins info
WSP Accepts
for your Convenience

Overnight camping is
allowed at track
Thursday evening is the best time to charge your
TRANSPONDER
Wake up Friday and it should be good to go for the whole weekend - takes around 16 hours
During the charge it will blink red.....when it turns green, it's done. unplug
It will blink green one time for each day of charge left
Blink
1 = 1 day
2 = 2 days
3 = 3 days
4 = 4 days
Red means less than 24 hours
So remember......
Wednesday night is Spaghetti night and.....
Thursday night is Transponder night! :)
So far you all have been
doing great!

OLD SCHOOL COMMERCIAL!!!
Under the Lights.wmv
S
E
E

Y
O
U

A
T

T
H
E

R
A
C
E
S

I
N

2
0
1
8